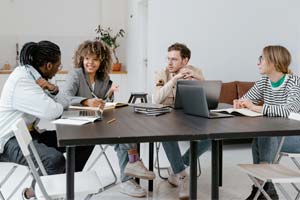 DEI Writing is one of the specialized services Rhodes to Writing Agency offers.
We support organizations in creating content that reflects the people they employ and serve. We value diversity, equity, and inclusion (DEI) and multicultural storytelling by crafting compelling narratives focused on people from all ages, races, ethnicities, socioeconomic statuses, and more.
We've written branded content for multimillion-dollar companies such as Google, Sprite, Toyota, and Walmart to highlight diverse employees and consumers.
Rhodes To Writing Agency prioritizes:
Accountability.
Thoughtful solutions.
Multicultural marketing.

Execution of internal and external communications strategies

.
Displaying awareness and representation through storytelling.
Connecting, informing, and inspiring audiences through DEI efforts.
Custom Packages Are Available
| | | |
| --- | --- | --- |
| Content Writing and Copywriting | Transcription | Feature and Profile Writing |
| Content Editing | Interviews | Tutoring |
Maintaining transparency and auditability across a variety of complex transactions is often challenging.
*Prices start at $200. We will determine the exact price after the consultation.